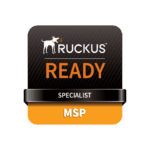 For immediate release
May 16, 2019
IoT4Net Obtains Ruckus Elite Managed Service Provider #1
IoT4Net received notice today that Ruckus has designated IoT4Net as an Elite Managed Service Provider MSP. The Managed Service Provider (MSP) Specialization recognizes partners with expertise in delivering and managing services based on Ruckus solutions.
As an MSP, Iot4Net will make available to clients its complete offering of services for wireless solutions.
The Ruckus MSP designation is targeted at service providers who deliver the following types of services:
Managed IT, including:
Planning and network design
Implementation services
Security configuration and audit
Network Provisioning
Networking as a Service, including:
Subscription-based offering
Enterprise-wide area network services
Up-time SLA
Installed-base audit
Spares provisioning
"The methodologies we developed over 28 years of creation and delivery of best in class service practices for large and critical enterprise networks are now under great demand in the new generation wireless markets for both carriers and enterprise." said Roger Snyder, President and CXO of IoT4Net. Snyder went on to say," A complete wireless solution often is comprised of numerous IT network components, similar as pieces to a very large puzzle. We developed our service deliverables based upon years of best practices derived from Six Sigma. This allows for comprehensive end to end planning, delivery and management of a complete IT infrastructure solution."
IoT4Net Managed Services are customized to each market sector and its unique requirements. Market, regulatory, investment, services, applications combined with revenue generation are the key areas that complete solutions must be orchestrated from. IoT4Net Inc. provides all professional and managed services for IT Infrastructure in critical and secure network environments. Development of best practices based upon Six Sigma methodologies and ITILv3 standards for professional and managed services. In Wireless Solutions, IoT4Net works with the manufacturers of IoT Devices, Applications, WiFi, CBRS, DAS, 3.5 Ghz, 5 Ghz, Millimeter Wave (MMV), MNO, NHPs to create these best service deliverables. In Hosted Solutions and Premise Based IT the company delivers end to end IT solutions. IoT4Net consults, designs, engineers, project management, deploys, installs, migrates, test, maintains, manages, monitors and monetizes New Generation IT.
Snyder said," Wherever our clients need us, we work to compliment their team and other 3rd party resource. We plan it. We engineer it. We project managed it. We build it. We own it. We monetize it."